36W 72W 108W Outdoor DMX RGB LED Wall Washer Light
✪ Power: 18W/24W/36W/48W/72W/96W/108W/150W/180W.
✪ Input voltage: AC85-265V / DC24V.
✪ Apply high quality LED chips with high brightness, high CRI, low heat and no flicker.
✪ Color selections: RGB/RGBW color or single color(White/Warm White/Red/Green/Blue/Yellow/Puple, etc).
✪ Optional DMX512 function.
✪ Beam angle: 5°/10°/30°/45°/60°/120°/10°*60°/10°*30°.
✪ Length selections: 0.3m, 0.6m, 1m, 1.2m, 2m (customizable).
✪ 3 Years warranty.
36W 72W 108W Outdoor DMX RGB LED Wall Washer Light
| Model No. | ZL-WWL-A |
| --- | --- |
| Power | 18W/24W/36W/48W/72W/108W/150W/180W |
| Working voltage | AC85-265V / DC24V |
| LED brand | EPILEDS |
| Color temperature | 2700K-6500K / RGB / RGBW / single color |
| CRI | >80 |
| Materials | aluminum + lens + glass cover |
| Beam angle | 5°/10°/30°/45°/60°/120°/10°*60°/10°*30° |
| Length selections | 1m/1.2m/2m/0.3m/0.6m (customizable) |
| DMX512 function | optional |
| IP rating | IP66/IP68 waterproof |
| Working temperature | -25°C~60°C |
| Lifespan | 50,000 hours |
| Warranty | 3 Years |
What is LED wall washer light?
As its name implies, LED wall washer light is a type of LED light that is used to shine walls. As walls are wide, the shape of wall washer light is usually made like a bar whose common length is one meter. It is often used in outdoor scenes such as buildings, bridges and lakes, etc. It adds various kinds of colors for scenes and makes them look more grand and attractive.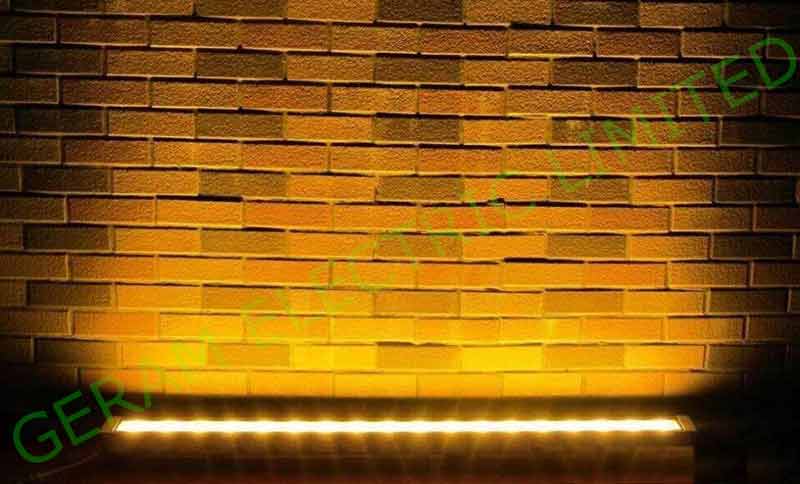 The LED light color temperatures that we often hear include warm white (2700K-3200K), neutral white (4000K-4500K) and cool white (5000K-6500K, also called cold white), which are represented in the unit of Kevin. But these colors belong to mixed colors which are composed of some colors, such as red, green, blue, etc. which we call basic colors or single colors. The difference between basic colors and mixed colors is that basic colors cannot be mixed by any other colors, and they are not measured in Kevin but in Nanometer.
RGB is short for red, green and blue, so we can easily understand that a RGB LED wall washer light is referred to a wall washer light which has the function to show and switch red, green and blue colors. Similarly, a RGBW wall washer light can still show white color (here, white color is mixed color, not basic color). But actually, for RGB and RGBW wall washer lights, they can present not only red, green, blue and white colors but also many other colors such as orange, yellow, cyan, purple, etc. which are mixed by RGB or RGBW basic colors. Working with a DMX controller, they can present nearly all colors in full spectrum.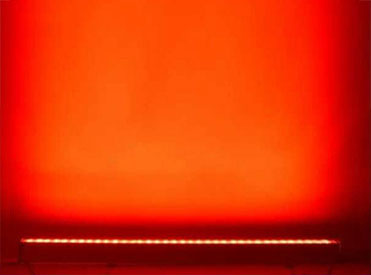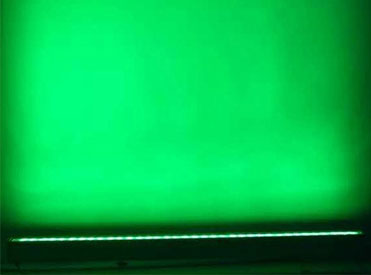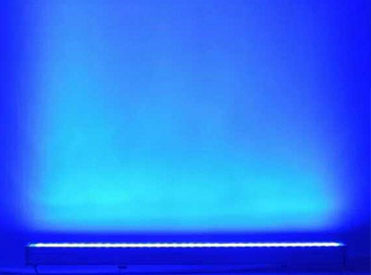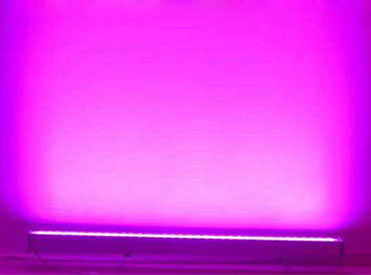 DMX is referred to DMX512, which is a standard for digital communication networks that are commonly used to control stage lighting and effects. DMX is short for "Digital Multiplex", 512 means 512 color channels. DMX has also expanded to uses in non-theatrical interior and architectural lighting, at scales ranging from strings of Christmas lights to electronic billboards and stadium or arena concerts.
Want to know more about DMX? You can refer to our post "What is DMX or DMX512 Lighting".
Generally this system has a DMX controller that is connected with all light fixtures in series. The controller is programmable and contains a SD card that is used to store programs. By operating the controller, we can make the lights display various kinds of colors or effects.

Other types of LED wall washer lights
The following LED lights can be also used as wall washer lights whose shapes are in flood light type or spot light type. They can be used in different scenes. The LED flood lights in high wattages can illuminate further distance.
Introduction of various types of wall washer lights
Our LED wall washer lights can be made in various kinds of wattages from 18W to 250W.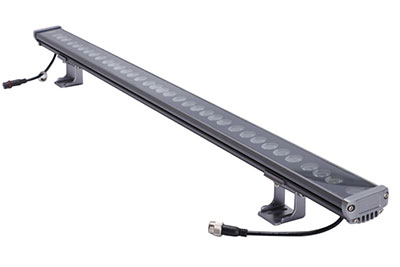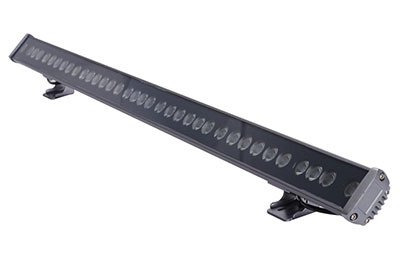 Model No.: ZL-WWL-A018 / A024 / A036
Power: 18W / 24W / 36W
LED quantity: 18pcs / 24pcs / 36pcs
Dimensions:  W45*H70*L1000mm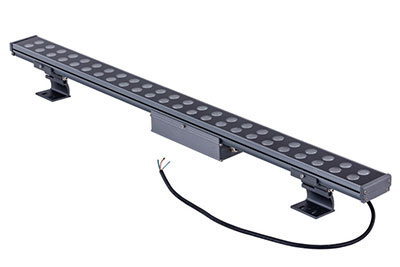 Model No.: ZL-WWL-A048 / A060 / A072
Power: 48W / 60W / 72W
LED quantity: 48pcs / 72pcs
Dimensions: W68.5*H96*L1000mm
96W / 108W / 150W / 180W / 200W / 250W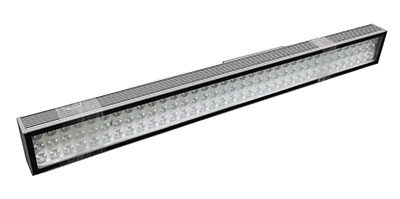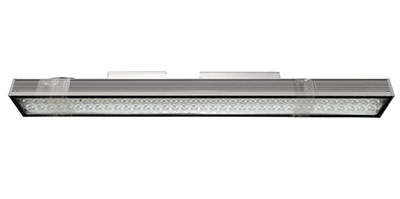 Model No.: ZL-WWL-A096 / A108 / A150 / A180 / A200 / A250
Power: 96W / 108W / 150W / 180W / 200W / 250W
LED quantity: 108pcs
Dimensions: W108*H150*L1000mm
IP68 Stainless Steel 18W 24W 36W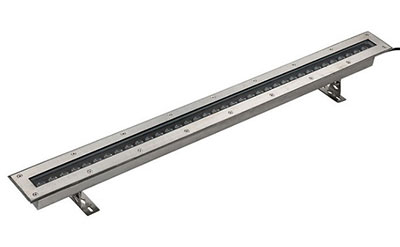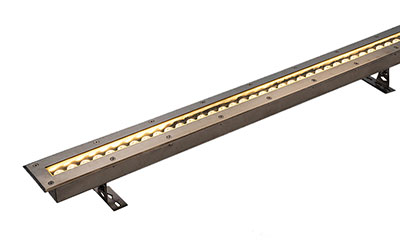 Model No.: ZL-WWL-C018 / C024 / C036
Power: 18W / 24W / 36W
LED quantity: 18pcs / 24pcs / 36pcs
Material: Stainless Steel
IP Grade: IP68
Dimensions: W108*H150*L1000mm
Note: The glass cover of our light can be made either transparent or black.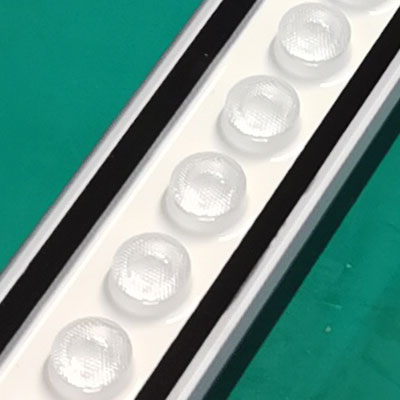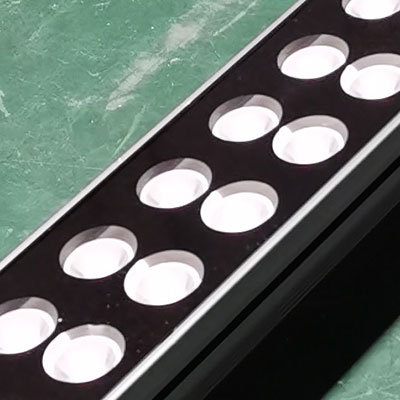 The default length of our wall washer lights is 1 meter. It can be also customized in 0.3m, 0.6m, 1.2m, 1.5m, 2m, etc.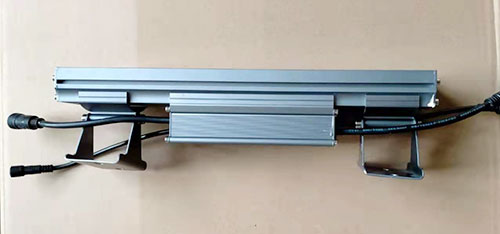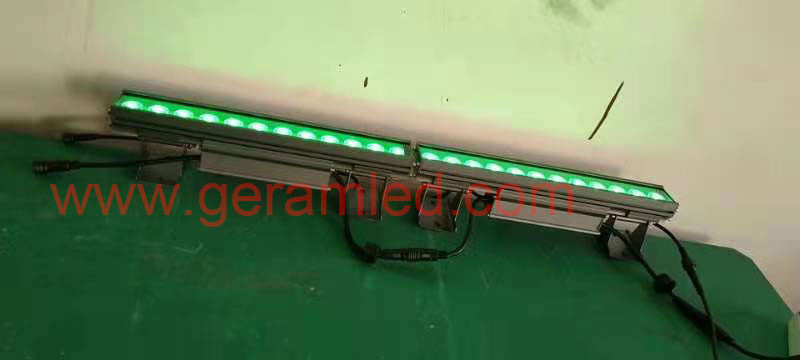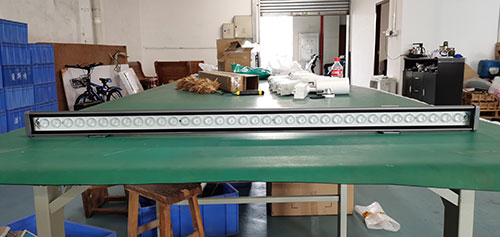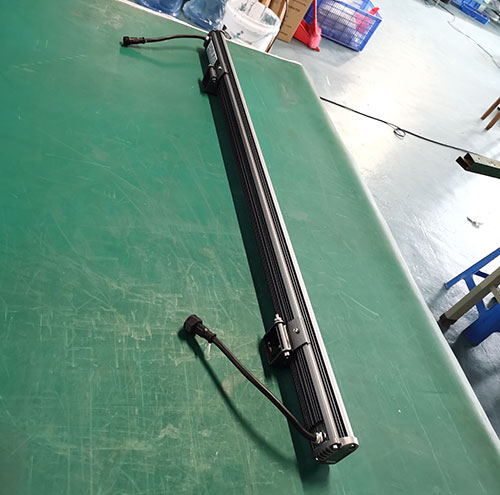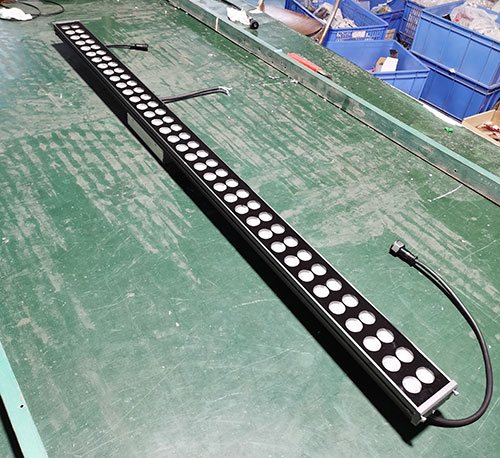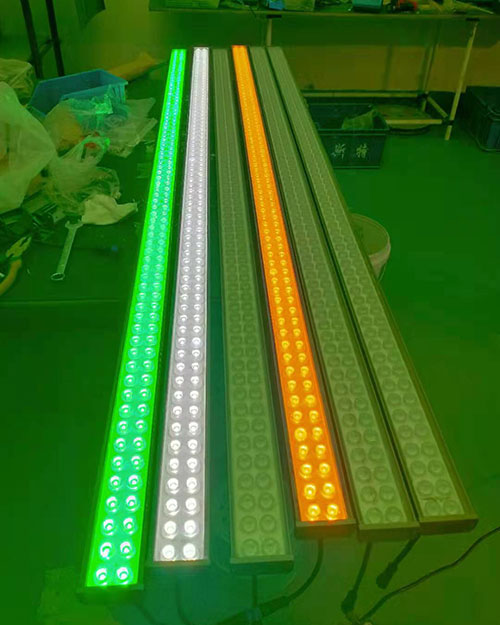 Beam angle is extremely important for LED wall washer light, for it determines whether the beam is concentrated or diffused. The ideal light effect will not come in an incorrect beam angle. The beam angle of the wall washer light depends on its lens. By using different lens, we can make our wall washer lights in 5°/10°/15°/30°/45°/60°/120°/10°x60°/10°x30°. The narrower beam angle is, the further the light can illuminate. On the contrary, the wider beam angle is, the close and wider the light can illuminate.

Generally, only RGB or RGBW LED wall washer light will be used with DMX controller. By working with DMX controller, RGB or RGBW wall washer light can show various kinds of colors or effects. We usually provide the following controller. It contains a SD card that has includes some normal programs.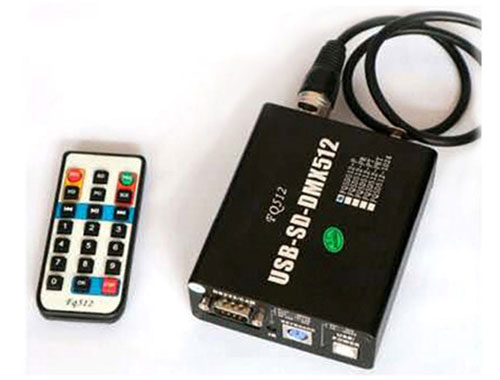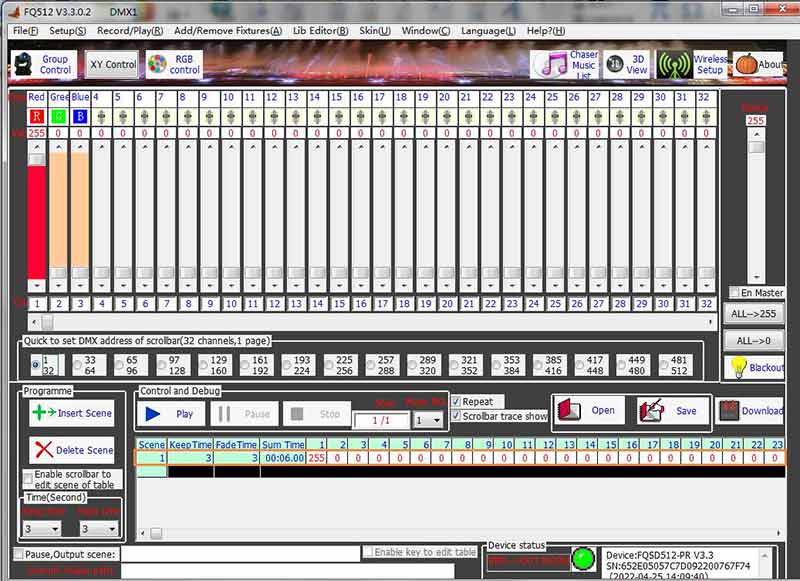 You can also use your own controller or buy it from other companies. As long as it supports standard DMX512 protocol, it can be used in any kind of DMX devices.
The following is a demonstration for DMX RGB wall washer light. For more videos, you can view our YouTube channel, or subscribe our channel below to get future update.
Subscribe to our YouTube Channel
Our LED wall washer lights are widely used in outdoor bridges, parks, apartments, commercial/government buildings, tourist spots, gardens, squares, housing estates, landmark buildings, hotels, towers, churches, etc.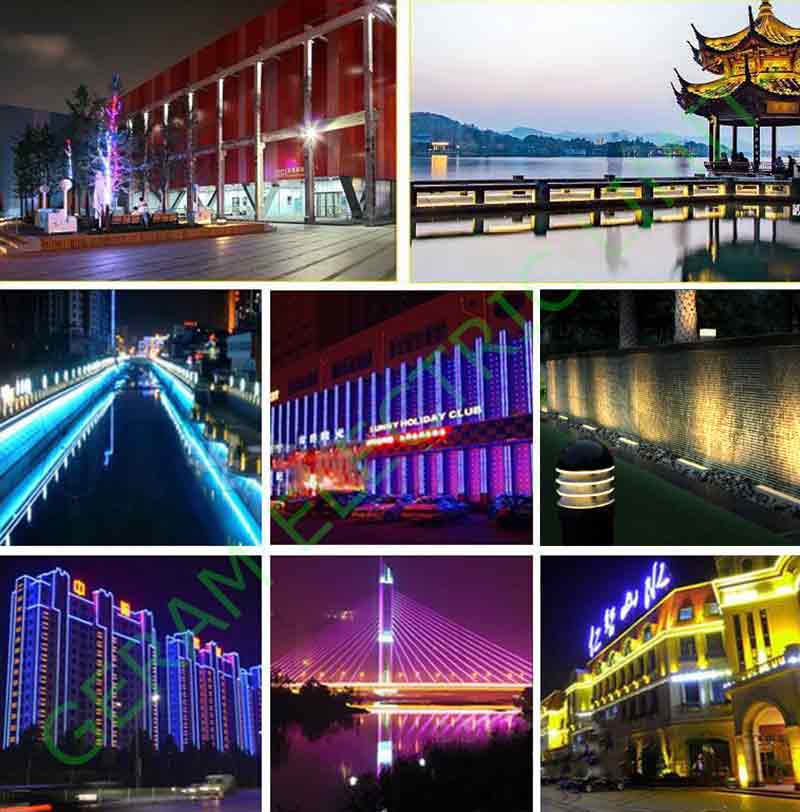 LED wall washer light has several kinds of installation methods based on its working voltage and color solution.
For solid color solution
If it works in high voltage, such as AC110V or AC220V, you can connect all lights in parallel under high voltage as below.

Sometimes the connection is in series.

If it works in low voltage, such as DC24V or DC12V, an extra AC-DC transformer should be used and all lights should be connected in series as below.

For RGB / RGBW color solution
For RGB or RGBW color solution, you only need to add a DMX controller to the existing system. Following is an example of installation for DC24V DMX RGB/RGBW wall washer light.
The difference between high voltage and low voltage
You may noticed that we mentioned both high voltage wall washer light and low voltage wall washer light above, so what are the differences between them?
First, high voltage is normally referred to AC110V/AC120V/AC220V/AC230V, and low voltage is referred to DC24V/DC12V. High voltage wall washers and low voltage wall washers have their individual advantages and shortages.
The most obvious advantage of high voltage wall washer light is its convenience for use, for it can be used under city electricity directly. But since it works in high voltage, it will be a little dangerous if there are not enough measures for protection.
On the contrary, low voltage wall washer light is very safe for people, but it needs to be used with AC-DC transformers. It is a little trouble to connect the cables.
Our suggestion: if the wall washer lights will be used in the places where people are easy to touch, or where it is moist all the whole year such as seaside, or underwater (such as in fountains, ponds or swimming pools), low voltage wall washer lights are more suitable to use.
The length of the cable of our wall washer lights is only about 30cm by default, for wall washer lights are commonly installed very closely. If the distance between your lights is a little long, we can provide extension cables which are with connectors.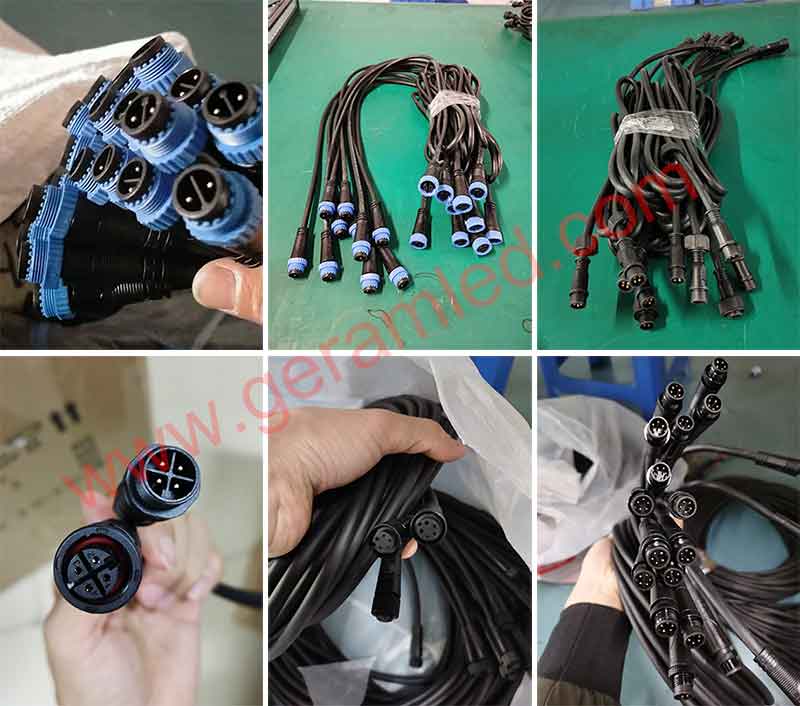 We, GERAM ELECTRIC LIMITED, are a leading LED light manufacturer located in China with about 10 years of experience. We specialize in developing, producing and selling LED flood light, LED wall washer light, LED street light, LED high bay light and LED corn bulb, etc. Till now our products have been exported to more than 50+ countries including USA, Germany, Italy, France, Thailand, Mexico, Saudi Arabia, UAE, Ghana, etc. We have helped many customers win lots of government projects and engineering lighting projects in the past. "Quality and service are always the first" is our value.

1. Quality assurance
Quality is always the first factor of our products. We dedicate to supply excellent products with competitive prices. All LED chips and drivers we use are from reliable brands. The materials of our lights can be used many years. We don't make low quality products with very cheap prices. We aim to have win-win cooperations with our customers.
2. Rich experience
We are an LED light manufacturer who has accumulated a large amount of experience in this field. In our company, there are many engineers who have over 15 years of experience. All our workers in production line are well-trained and all procedures of our production are in good control. All these factors make us produce so excellent products. You can be assured that if your order is given to us to produce.
3. Flexible for customization
This is also a big advantage for us. For wall washer lights, many companies don't support customization. They only supply wall washer lights with specific wattages, lengths, beam angles or color solutions. If you want customization you have to pay much money or purchase a large amount of their products. But our here, customization is very simple. You only need to tell us your detailed requirement then our experienced engineers will provide you a solution. To customize products our here you don't need to pay much money or buy a large quantity of our products.
4. Competitive price
Our price might not be the lowest in the market, but we provide direct factory price. It is still much competitive comparing to those from retailers, wholesalers, traders or any other middle sellers.

Frequently Asked Question
We are a leading LED light manufacturer located in Guangdong, China. You can easily buy our wall washer lights no matter where you are. Firstly, please send us an inquiry to tell us your requirement on our website or through email, whatsapp or skype, etc. Then we will send you a feedback with our proposal and quotation. You will be requested to send us the payment after our deal. And when the payment comes we will arrange the production and send you the goods by air or by sea.
Normally our payment term is T/T 30% deposit and balance before shipment. For small amount (such as less than 500 USD) you can pay via Paypal, Western Union or MoneyGram. But for large  amount, we will accept bank transfer. We accept different kinds of currency including USD, Euro, GBP, RMB, HKD, YEN, etc.
Normally the delivery time of our sample is 1-3 days and normal order is 5-15 days depending on the actual quantity of your order. We will arrange the shipment by air express(door to door), normal air freight(to your local airport), sea freight(to your local seaport) or some special shipping ways with duties according to the actual situation.
The lifespan of our LED lights can reach 50,000 hours in theory. But the actual lifespan will be a little shorter due to the influences caused by the actual environment temperature, humidity and the using habit of the end user. According to our experience, our LED lights can be used from 6 to 10 years or more.
Normally we provide 3 or 5 years warranty. During the warranty period, if there are any failures we will send you new products or new parts for replacement. You can come to us whenever you meet problems.