Outdoor Color Changing DMX RGB LED Water Fountain Lights
✪ Power: 3W/6W/9W/12W/15W/18W/24W/36W/50W/100W.
✪ The light body is stainless steel material(304), corrosion resistant, long lifespan.
✪ Can be made DMX/DMX512 controlled.
✪ Support RGB/RGBW color or single colors(White/Warm White/Red/Green/Blue/Yellow/Puple, etc).
✪ Support multiple color changing effects: Flashing, Strobing, Jumping, Fading, Smoothing, etc.
✪ Using high quality LED chips with excellent color, high brightness and low heat. No flicker.
✪ Multiple beam angles: 5°/10°/30°/45°/60°/120°, etc.
✪ 3 Years warranty.
Outdoor Color Changing DMX RGB LED Water Fountain Lights
Model No.
Power
Input Voltage
DMX/DMX512 Function
ZL-JD-H
3W~100W
DC24V/DC12V/
AC110V/120V/220V/230V
Support
Materials
Working Temp.
Lifespan
Warranty
Stainless Steel+Glass
-25°C~60°C
50,000 Hours
3 Years
LED Brand
LED Model
Color Temp.
CRI
EPILEDS
High Power
RGB/RGBW or Single Color
> 80
Driver Type
PF
IP Rating
Beam Angle
Isolated Constant Current
> 0.95
IP68 Waterproof
5° - 120°
LED water fountain light is also used as underground light, underwater light. Besides being used for water fountain, it is also widely used in square, swimming pool, pond, garden, bridge, etc. Here are its features:
IP68 waterproof:
Our wall washer light is made of 304 stainless steel material which is antioxidative and corrosion resistant. The whole light is IP68 waterproof and can be used under water directly.
High brightness and excellent color:
We use high quality LED chips from famous brand which are with high brigthtness and excellent color. The LED chips cause less heat and without flicker.
Support DMX function:
The LED water fountain light can be made DMX controlled. With DMX function, the lights can generate a lot of colors and changing effects. DMX function is optional. The lights will run the internal program if without DMX function.
Support RGB/RGBW color or single solors:
The wall washer lights can be made with RGB/RGBW color or single colors such as warm white, cool white, red, green, blue, yellow, puple, amber, etc.
Multiple kinds of beam angles:
With different lens, our LED water fountain lights can be made with a lot of kinds of beam angles: 5°/10°/30°/45°/60°/120°.
Multiple kinds of power:
Our lights can be made in 3W/6W/12W/15W/18W/24W/36W/50W/100W. You can choose a suitable power according to your requirement.
Extremely long lifespan:
Our LED wall washer light consists of high quality LED chips, strong LED driver and stainless steel light body. The whole light has a very good performance for heat dissipation and can be used for many years.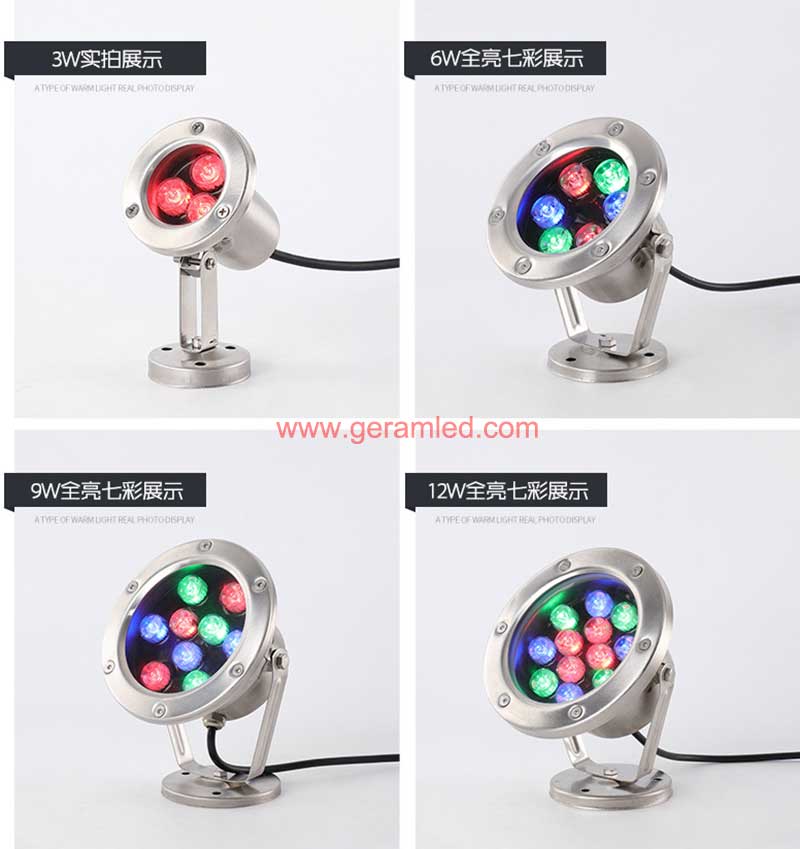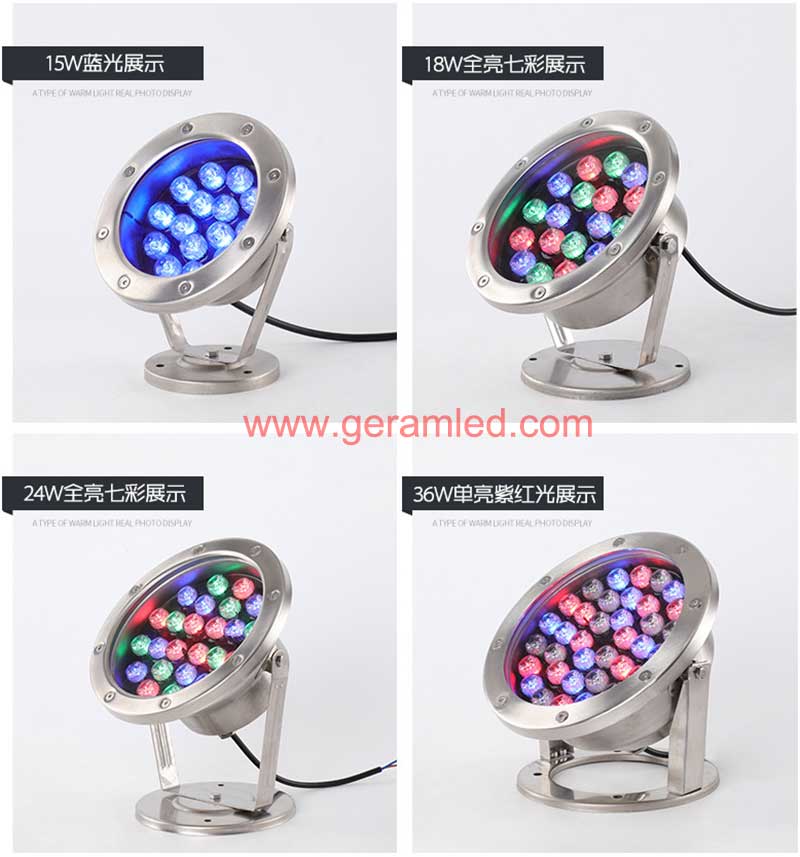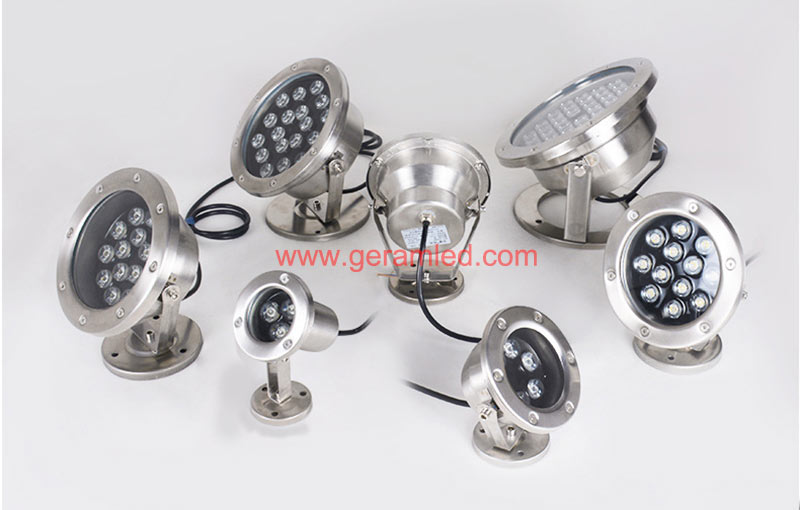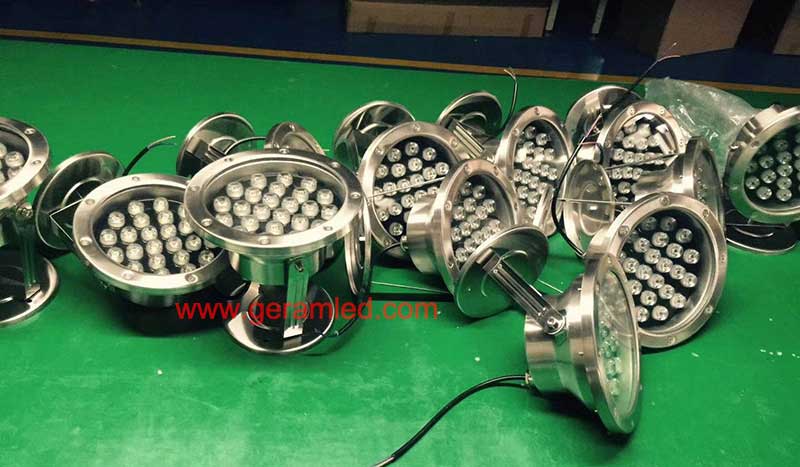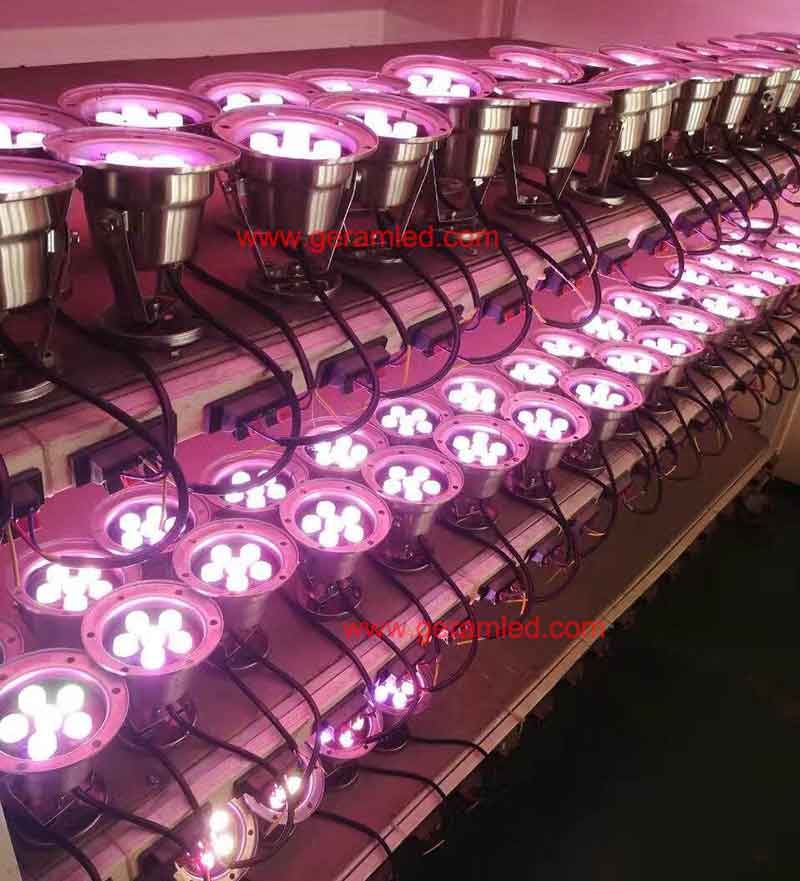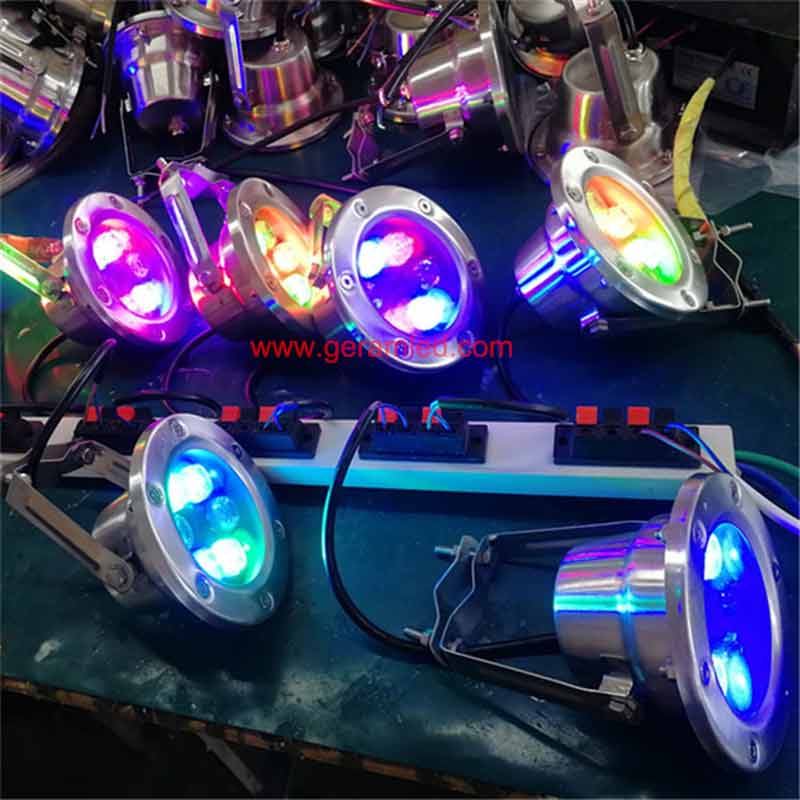 Our water fountain light is also used in square, swimming pool, pond, garden, bridge, etc. It can be also used as normal wall washer light. For its IP68 waterproof rating, it is perfectly used in the places near harbours.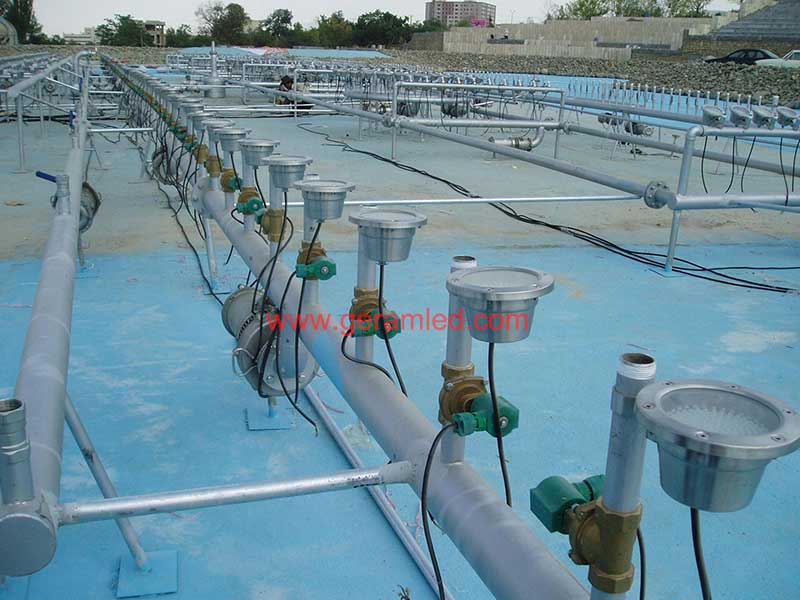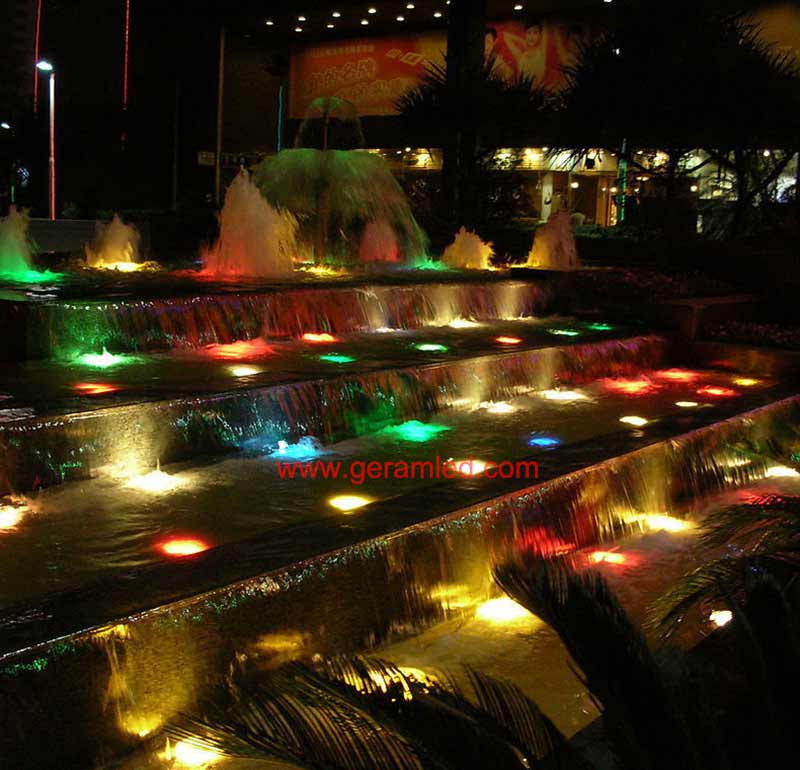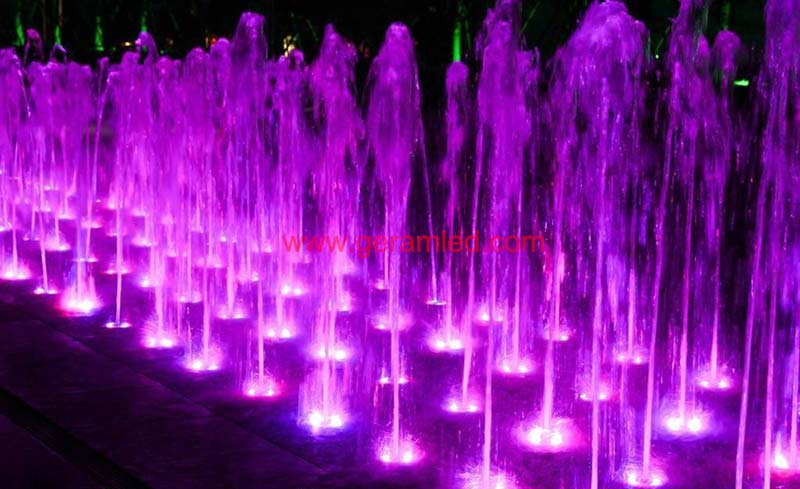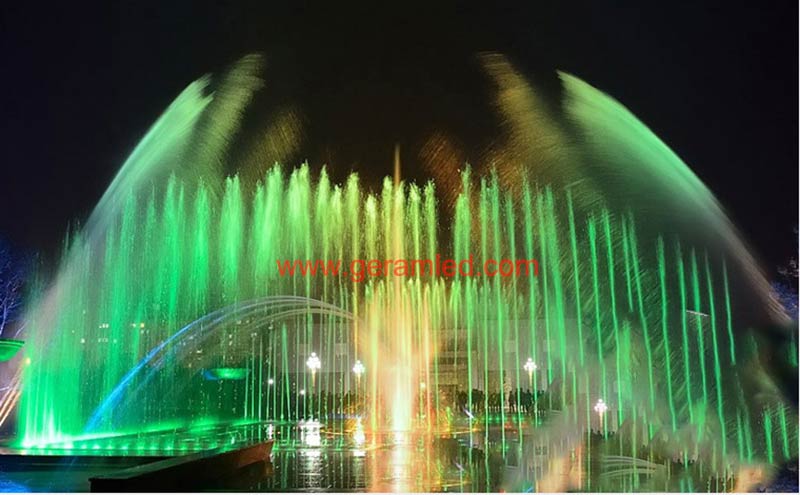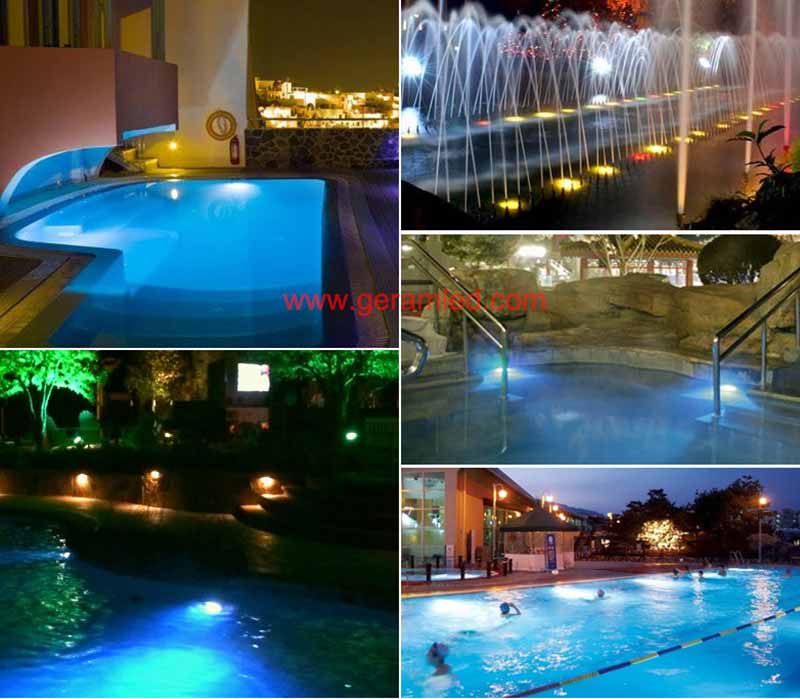 Frequently Asked Question
We are a leading LED light manufacturer located in Guangdong. China, You can easily buy our LED lights no matter where you are. Firstly, please send us an inquiry to tell us your requirement on our website or through email, whatsapp or skype, etc. Then we will send you feedback with our proposal, products and quotation. You will be requested to send us the payment after our deal. And when the payment comes we will arrange the production and send you the goods by air or by sea.
Normally our payment term is T/T 30% deposit and balance before shipment. For small amount (such as less than 500 USD) you can pay via Paypal, Western Union or MoneyGram. But for large  amount, we will accept bank transfer. We accept different kinds of currency including USD, Euro, GBP, RMB, HKD, YEN, etc.
Normally the delivery time of our sample is 1-3 days and normal order is 5-15 days depending on the actual quantity of your order. We will arrange the shipment by air express(door to door), normal air freight(to your local airport), sea freight(to your local seaport) or some special shipping ways with duties according to the actual situation.
The lifespan of our LED lights can reach 50,000 hours in theory. But the actual lifespan will be a little shorter due to the influences caused by the actual environment temperature, humidity and the using habit of the end user. According to our experience, our LED lights can be used from 6 to 10 years or more.
Normally we provide 3 or 5 yrs warranty. During the warranty period, we will send you new products or new parts for replacement if there are any failures. You can come to us whenever you meet any problems.