DMX RGB LED Flood Light 100W 200W 300W 500W 800W 1000W
✪ Support DMX (DMX512) controlled.
✪ Multi colored setting: Red, Green, Blue, White, Yellow, Orange and Purple, etc. Support RGB or RGBW solution.
✪ Smart and support multiple color changing effects: Flash, Strobe, Jumping, Fade, Smooth, etc.
✪ Custom wireless controller solution.
✪ Wide range power options: 50W / 100W / 200W / 300W / 500W / 800W / 1000W.
✪ Narrowest 5° beam angle.
✪ Outdoor IP66 / IP65 waterproof and IK08 grade.
✪ 5 Years warranty.
If you are looking for an outdoor LED flood light / wall washer light to decorate your house, building or any landscape lighting applications, then our DMX RGB LED flood light may be your best choice!

Our DMX RGB LED flood light is widely used in many kinds of outdoor applications, such as commercial building, bridge, dock, housing estate, tower, stadium, garden, etc. It can be used as wall washer light or spot light, too. Its maximum power is up to 1000W and the longest irradiation distance is 150 meters. It can illuminate up to 32 storey even 50 storey high building and can be also used as high mast LED flood light!

If your this light is multi coloured LED flood light?
Yes, our flood light is multi coloured. Firstly, we think you have heard RGB flood light or RGBW flood light. R, G, B, W mean Red, Green, Blue and White color. They are the base colors of the color spectrum. All other colors can be generated by mixing these base colors, such as yellow, orange, purple, etc. Our flood light is made by using Red/Green/Blue(or White) color LED chips, so our light can cover these colors and their mixed colors(almost all colors in the color spectrum).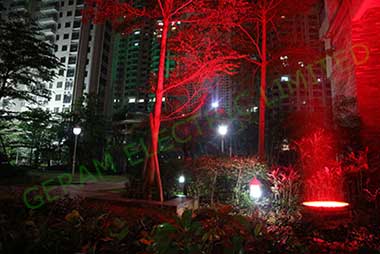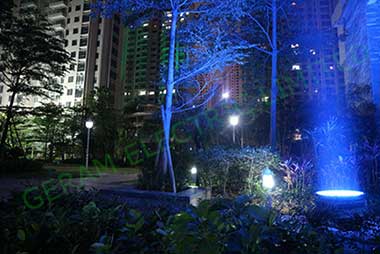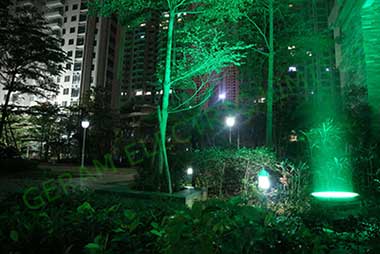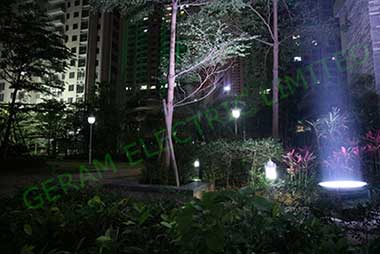 We use the RGB / RGBW LED chips from the world's best LED brand CREE. These LED chips have high brightness, good color, low heat and long lifespan.
What color changing effects does your RGB LED flood light support?
Our RGB LED flood light is smart and can generate multiple color changing effects. Such as Flash, Strobe, Jumping, Fade, Smooth, etc. If working with a DMX controller, it can generate more complicated effects such as trotting horse lamp, timer setting for switch, etc.
What is DMX and DMX512 LED flood light?
DMX is short for "Digital Multiplex", we can simplely understand it as a digital protocol. Nowadays, normally DMX is refered to DMX512(support maximum 512 channels, one color each channel), you can learn its more information on wikipedia: https://en.wikipedia.org/wiki/DMX512. Our light can show many different color effects by working with DMX512, we need to use an external DMX controller and add hardware parts to the lights. The program is held in the controller and the signal will be sent to the lights to generate different colors or effects. Our RGB flood light support universal DMX512 controller as long as it supports standard DMX512 protocol. You can buy the controller from us or in your local market.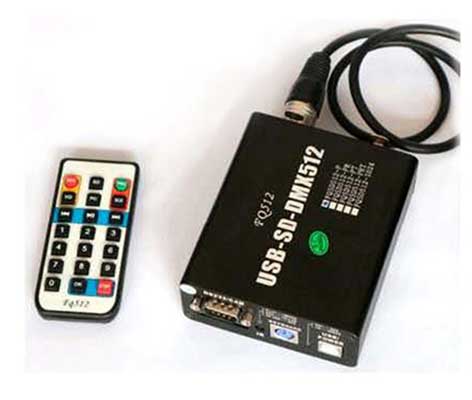 Please remember, DMX function is optional on our RGB LED flood lights. We can also make our lights without DMX function as your requirement. Our product is programmable led flood light, we can help you customize the program if you want.
Can your RGB flood light be made with wireless controller?
Yes, sure, we can make our lights wireless controlled. If your application covers a big area, and the distance between each two lights is a little far, it is difficult to layout the cables, then you can use our wireless solution. The advantages by using wireless solution is that you don't need to do the layout of the DMX cables, and the transmitting distance is longer. We will add one more wireless transmitter in the whole system and add one receiver for each light to get the wireless signal.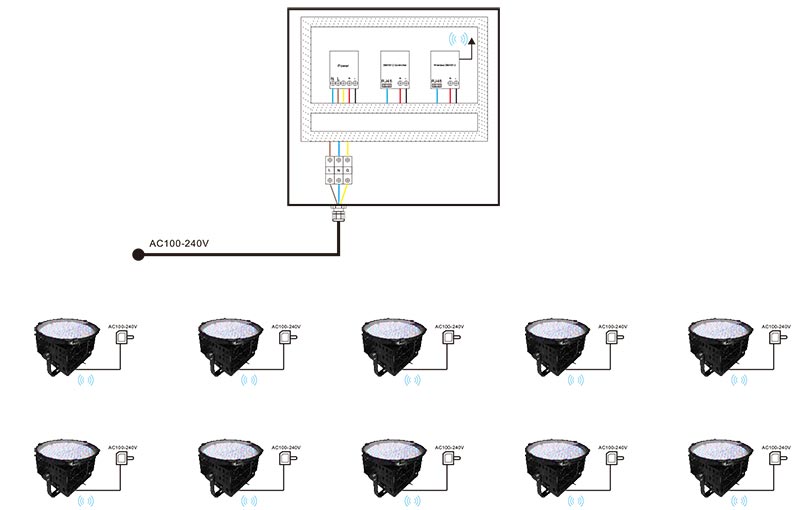 Can you make low voltage DC12V or DC24V?
Yes, besides high voltage AC100-277V, we can also make AC480V, DC12V and DC24V. Low voltage is not a problem for us.
Can your DMX RGB flood light be made with narrow beam angle?
Yes, our DMX RGB flood light supports narrowest 5° degree beam angle and widest 120° degre beam angle. We use special lens and can make different kinds of beam angles to meet your requirement. The beam angle is narrower, the output light is more concentrated, the irradiation distance is longer and the color effect is better. The irradiation distance of our light is up to 150 meters with narrowest beam angle.
Why should I buy your DMX RGB / RGBW LED flood lights? What are your advantages?
•  Our solution is based on Single Color RGB or RGBW led chips, not 3in1 or 4in1 led chips. 3in1 or 4in1 means the RGB/RGBW colors are integrated in only one led chip, normally the color on this kind of led chip is scattered and will not look very good. But our solution is by mixing multiple Single Color RGB/RGBW led chips, the color of single color led chips is more pure, the output light is more concentrated and the color effect will look better. Our solution is better than most solutions in this market.
•  Our light can be made with narrowest 5° or 10° beam angles, these are the beam angles many companies can not make. Our light can illuminate up to 150 meters.
•  Our light is self-designed and self-developed, including the DMX512 decoder. When our light has problem, we can position it and fix it quickly. We provide excellent maintenance service.
•  We are factory, we can customize the product as your requirement. We provide OEM service and competitive factory price.
•  We have been manufacturing LED lights for about 10 years, and also developing and selling DMX RGB LED flood lights more than 5 years. Our quality has been proven to be very stable.
So, our DMX RGB LED flood light may be your best choice!
You can also check our other RGB led flood lights if our this model can not meet your demand.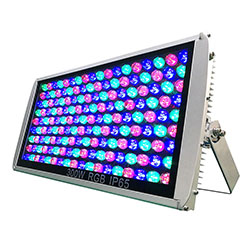 RGB LED Wall Washer Light / Flood Light 100W 200W 300W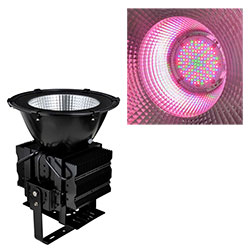 RGB LED Spot Light / Flood Light 100W 200W 300W 500W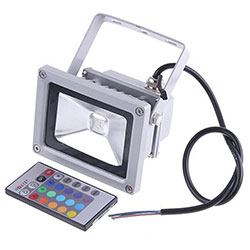 RGB LED Flood Light With Remote Control 10W 20W 30W 50W
More videos of our DMX RGB LED flood lights on our Youtube or Linkedin.