How Many Types of LED Lights Are There in Total?
"LED light" is a term that encompasses many types of LED lights. LED lights can be divided into indoor LED lights and outdoor LED lights with different waterproof grades, but some can be used both indoors and outdoors. We should choose the right LED lights according to different needs. According to their shapes and functions, we have listed some common types of LED lights below.
LED bulb normally refers to the LED light with small volume and power. Its light body is little round and usually with E27, E26, B22 base, etc. According to the differences of their shapes and sizes, they can be further divided into many sub-categories, such as G45, A60, G125, BR30, G4G9, etc. LED bulbs are normally used for home lighting, or for small rooms, or for decorations. All the following lights can be called LED bulb.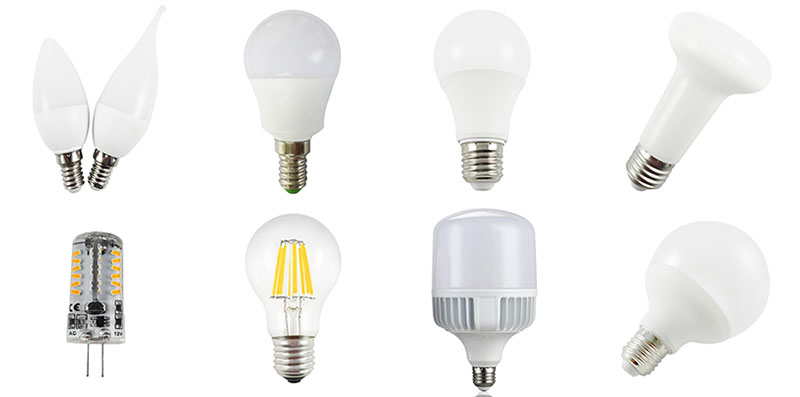 LED tube light is also often seen in our daily life. It is a tube in length 0.6m, 0.9m, 1.2m, 1.5m, 2m, etc. and usually made of plastic, glass or plastic+aluminum materials. LED tube lights are used in a very wide range of applications, such as offices, warehouses, parking lots, schools, supermarkets, stores, restaurants, etc.

LED downlight is also a very common type of LED light. According to its installation method, it is divided into recessed type and surface mounted type. Recessed type is installed in the ceiling, which is similar to the LED ceiling light mentioned below. Surface mounted type can be installed in both ceiling and roof. LED downlights are normally used in halls, hallways, kitchens, bathrooms, etc.
LED ceiling light, as the name implies, is mounted in the ceiling. It is a bit like recessed type of downlight, but in general, if its angle is adjustable, we call it a ceiling light, otherwise a downlight. LED ceiling lights are also widely used in halls, hallways, kitchens, bathrooms, etc.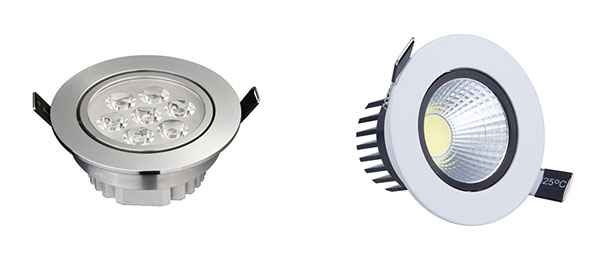 LED spotlight generally refer to the LED light with small beam angle and long projection distance. In real life, the LED spotlights we talk about usually refer to GU10, MR16, GU5.3, MR11, PAR20, PAR30, PAR38, etc. They might be also any big LED lights used outdoors. LED spotlights are usually used for decorations to build atmospheres. They are widely in homes, galleries, supermarkets or some outdoor scenes.

The shape of LED panel light is like a flat panel which is round or square. According to its installation method, it is divided into 3 types: recessed type, surface mounted type and suspended type. According to its size, it is divided into big panel light and small panel light which we also call ultra-thin panel light. LED panel lights are also used widely, such as in kitchens, washrooms, offices, cafeterias, hallways, etc.

LED corn light has very high lumen and is usually with E27/E26/E40/E39 base. It is usually used with a lamp-shape and widely used in factories, warehouses, shopping malls and roads, etc.
LED strip light, also called LED tape light or LED rope light, is usually in low power and used for decorations. It can also be used outdoors because it can be made waterproof. It is usually used in bedrooms, bathrooms, kitchens, stairs, under cabinets/counters, buildings, supermarkets, shops, stores, cars, etc.

The flood lights we normally talk about refer to those what we see outdoors with wide beam angles. For those with narrow beam angles, we usually call them Spotlight or Spot Light. LED flood lights are used too widely and we can see them almost everywhere.

We are also too familiar with LED street lights, especially in cities. LED street lights are almost installed in all main roads and highways.

We may not often see LED wall washer lights. They are normally used in architecture lighting, washing the walls and making the scenes more attractive. The shape of LED wall washer light is like a bar and it is usually in length 1m, 1.2m, 1.5m, 2m, etc. They are widely used in buildings, bridges, apartments, towers, churches, etc. and are installed on the bottom or the top of the structures.

Actually LED linear light is very similar to LED wall washer light, but it is not for wall washer. It is usually used in big buildings and used to draw the outline of the structures.

LED point source is a small, round or square LED light which is used for decorations. It is usually used in large quantities and with a programmable controller. Through being programmed, it can generate a great many patterns and dynamic effects.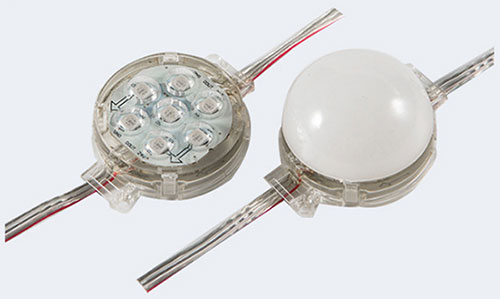 Because LED underwater light has to be used in water for a long time, it is usually made of stainless steel material and has a waterproof level of IP68 to prevent rust and corrosion. Some underwater lights are also called swimming pool lights or pond lights.
Solar LED light is a special type of LED light for it contains solar panels and batteries. It can be further divided into some sub-categories, such as solar street light, solar flood light, solar garden light, etc. During the daytime, they will be automatically charged and will be automatically turned on at dusk and last until dawn (if there is enough battery capacity). Solar LED lights are usually used in sunny areas such as the tropics and subtropics, as well as in areas with severe power shortages.

There are still many many types of LED lights. It is impossible for us to list all of them here. If you are interested, welcome to discuss them with us.