High Quality Outdoor Waterproof Flexible Neon LED Strip Light
✪ Power: 6W/16W/20W/24W/30W/44W/60W.
✪ Using excellent LED chips with high lumen, high CRI, low heat and comfortable color.
✪ LED Qty / meter: 30/60/120/168/240/360 pieces, etc.
✪ Voltage: DC 12V/24V, AC 110V/120V/220V/230V/240V.
✪ CCT: 2700K-6500K / single color / RGB/RGBW / full spectrum.
✪ IP rating: IP20, IP44, IP65, IP67 or IP68.
✪ 3 Years warranty.
✪ Packing: 5m/10m/50m/100m per roll.
High Quality Outdoor Waterproof Flexible Neon LED Strip Light
Model No.
Power / Meter
Input Voltage
Color Temp.
ZL-ST-2835 (Neon)
6W-60W
12V/24V
110V-130V/220V-240V
2700K-6500K/RGB
RGBW/Single Color
Materials
Working Temp.
Lifespan
Warranty
Aluminum+Silicon
-40°C~60°C
50,000 Hours
3 Years
LED Brand
LED Model
LED Qty / Meter
Lumen
Philips/Epistar/Sanan
SMD2835
30/60/120/240, etc
26-28lm/LED
CRI
Dimmable Function
IP Rating
Packing
>80
Optional
IP20/IP44/IP65/IP67/IP68
5m/10m/50m/100m
per roll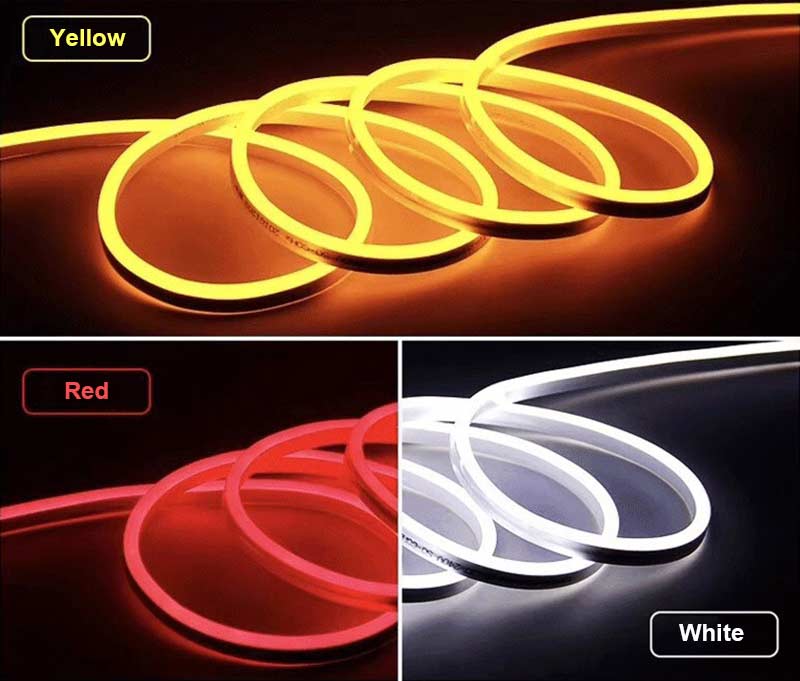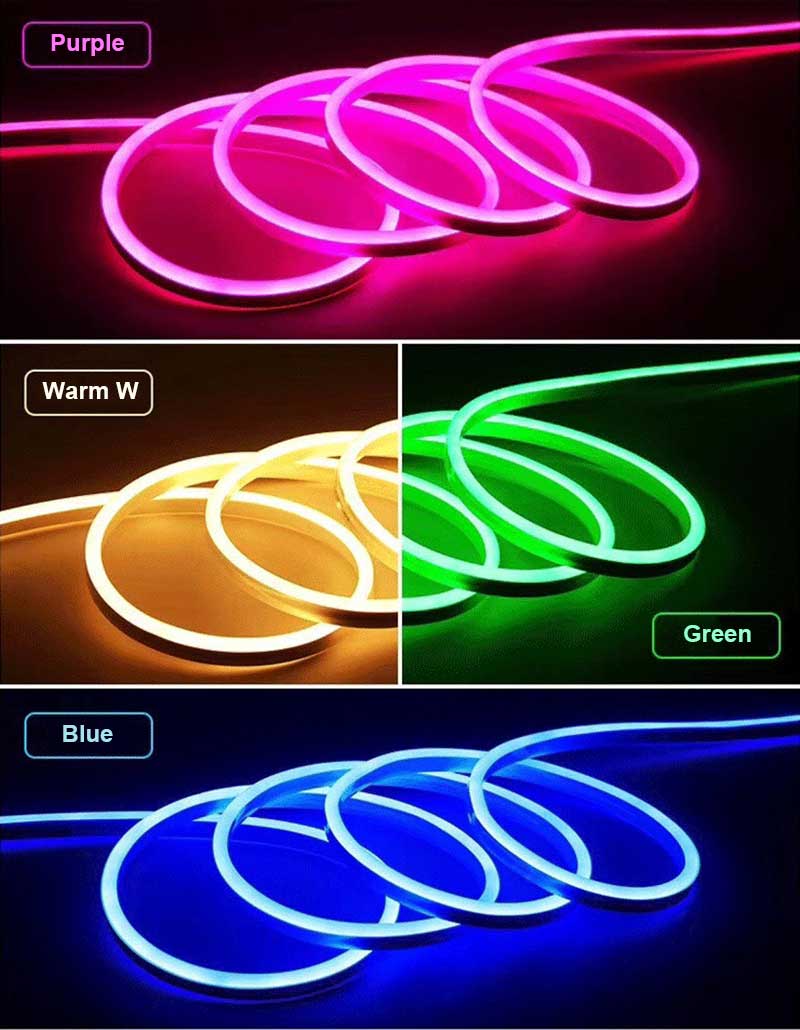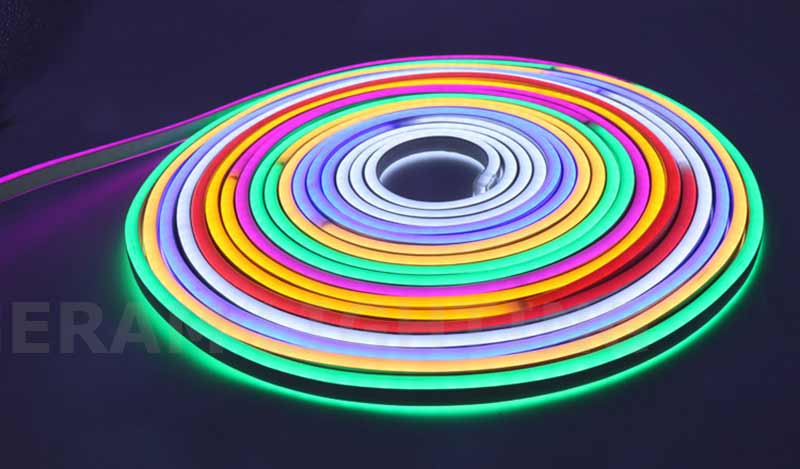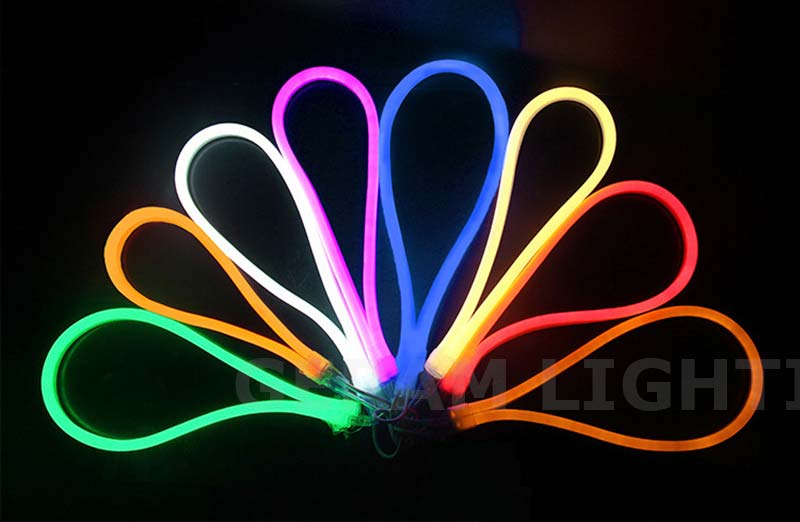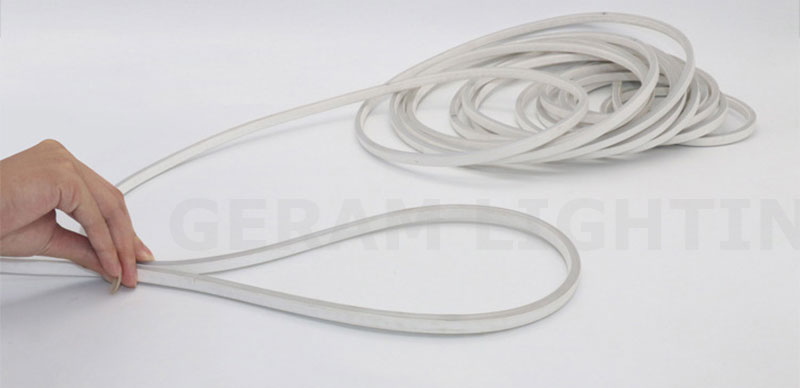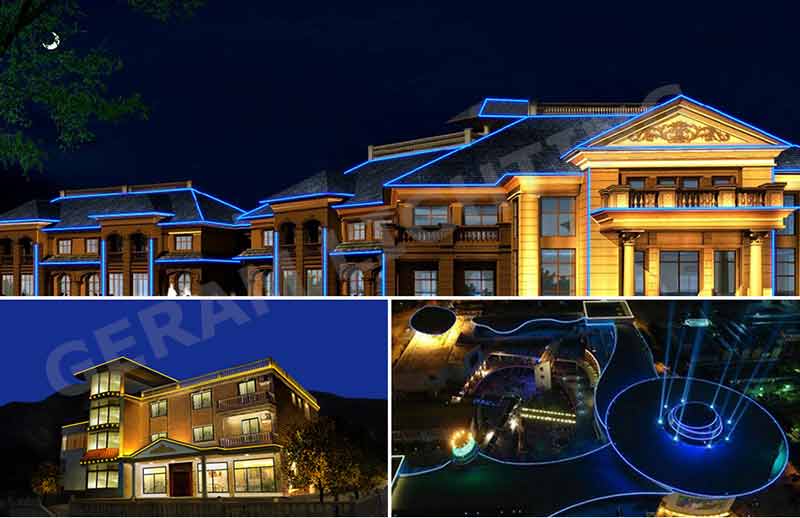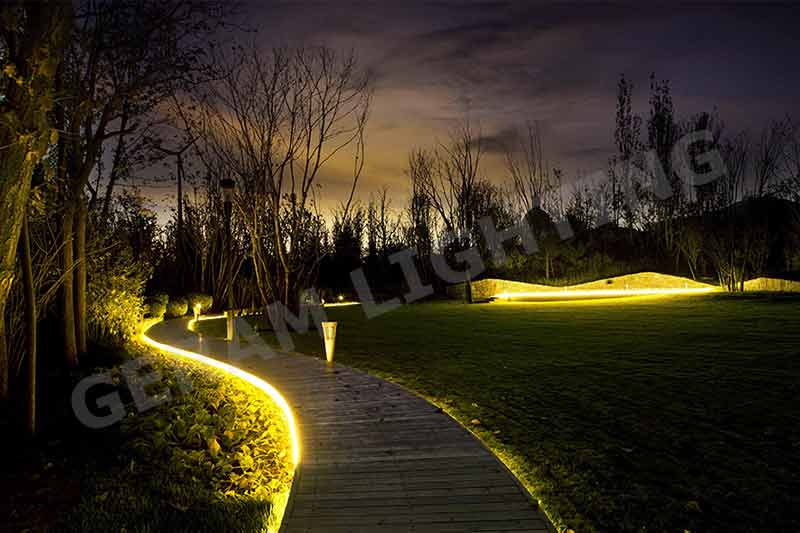 1. High quality: Our LED strip light is made up of aluminum / copper PCB board, super bright LED chips, strong resistors & capacitors, and silica gel with high transparency. The LED chip models 2835 and 5050 are used mostly. In the past, there were also some models used such as 3014, 5630, 5730 and 3528, but now they are deprecated.
2. Optional wattages: 6W, 7.2W, 14.4W, 16W, 20W, 24W, 28.8W, and high power 30W, 44W, 60W, etc. Each meter of LED strip light in different wattage has different numbers of LED chips.
3. Support multiple kinds of voltage: Low voltage DC 12V / 24V,High voltage AC 110V / 120V / 220V / 230V / 240V. You can also ask us to customize unnormal voltages such as 5V, 4V, 6V, 9V, etc.
4. Support multiple kinds of color temperature: Normal color temperature - warm white (2500K, 2700K, 3000K, 3500K), neutral white (4000K, 5000K), cool white/daylight (6000K, 6500K); Single color - red / green / blue / lemon / pink / purple / amber / yellow / orange; Multi colors - RGB/RGBW; Full spectrum / color. Normally full spectrum /color LED strip lights are programmable and addressable, they will be with a wireless/cordless controller and a small remote control. By using this remote control, you can set the color changing effects of the LED strip lights easily.
5. IP Rating: IP20, IP44, IP65, IP67 & IP68. Normally IP20 & IP44 LED strip lights are used indoor, and those in IP65 or above are used in outdoor/exterior applications. The strip lights in IP68 can be used in pools all the time.
6. Optional dimmable function: If you need dimmable function, an extra dimmer will be needed.
7. Customizable length: Our LED strip light is flexible and cuttable. We can help you customize a various kinds of length, such as 1m, 2m, 5m, 10m, 20, 30, 50m, 100m, etc. For the packings, normally we will pack 5m/roll or 10m/roll for low voltage strip lights, and 50m/roll or 100m/roll for high voltage strip lights..
LED strip light, also called LED tape light, LED rope light, LED neon light, LED ribbon light or LED strip lamp, can be pasted on the wall or the ceiling, or hided on the edges of the ceiling, or hung on the trees or other things, to be used as normal lighting or build a good atmosphere. They are widely used in the applications of home lighting, commercial lighting, outdoor lighting, industrial lighting or special lighting. Such as bedroom, bathroom, kitchen, stairs, under cabinet/counter, building, supermarket, shop, store, car, garage, warehouse, bar, garden, pool, marine, or for Christmas lighting / grow lighting, etc.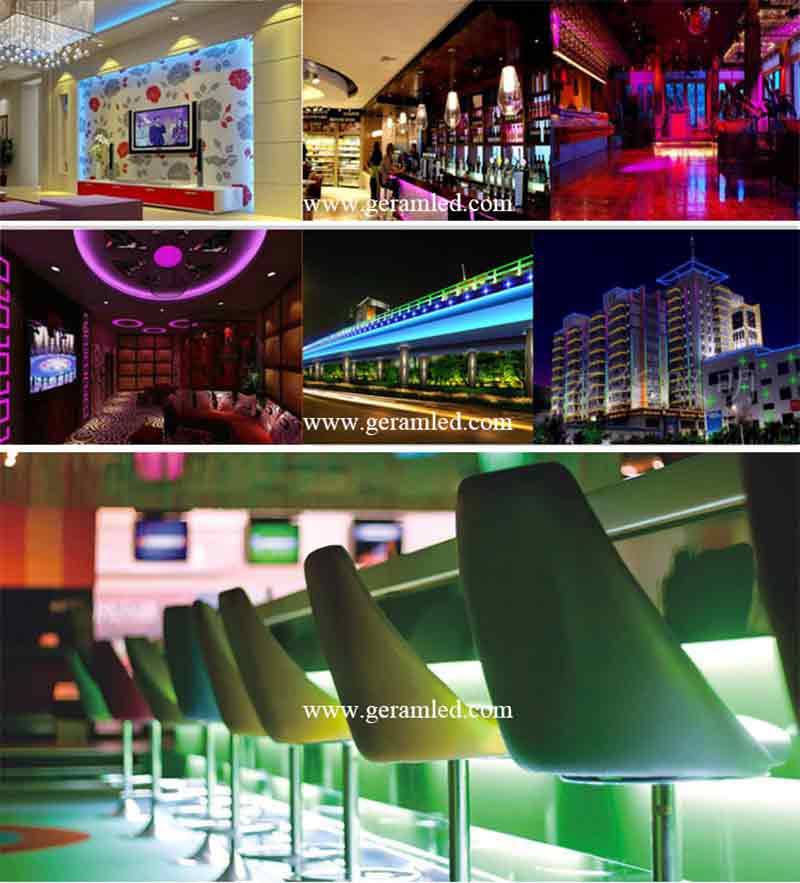 If the LED strip light is in DC 12V/24V, it need to be used with an AC-DC power supply or a transformer. If the strip light is in AC 110V/220V, it need to work with a small adapter. If the strip light is RGB/RGBW color, it need to work with an RGB/RGBW controller or DMX/DMX512 controller. Some controllers still have voice control/music functions, and are also with a remote control for simple operation.
Our LED strip light has obtained a series of certificates such as CE, EMC, LVD, RoHS and FCC, etc. You can also contact us directly if you have a special requirement.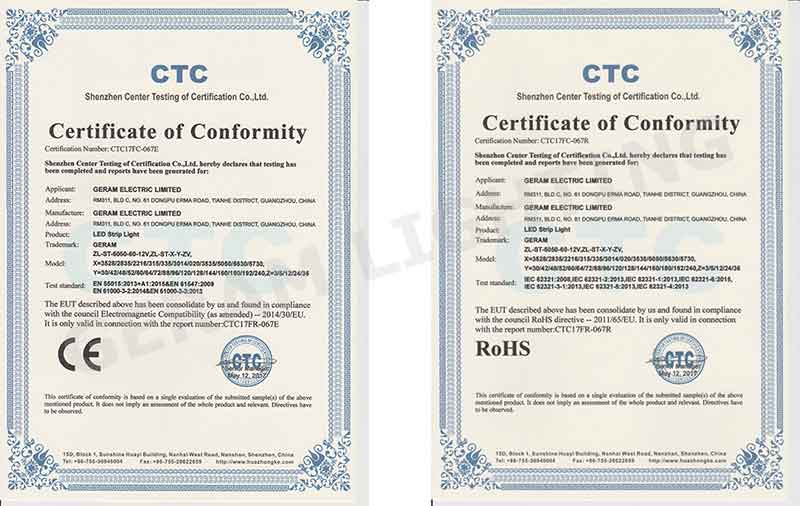 Why choose our LED strip light?
1 •  Our LED chips are from famous and reliable brands. Such as CREE, Philips, and Epistar, etc. These LED chips have high brightness, high CRI, low heat and long lifespan. They can make the color of the whole light look more attractive and comfortable.
2 •  We are a direct manufacturer and have more than 10 years of experience in production, we can supply you more reliable lighting products. And we manufacture a wide range of LED strip lights which can meet most of your demands.
3 •  With our large factory covering over 20,000 square meters and well trained workers, our delivery time is guaranteed to be fast.
4 •  We offer low factory price which is more competitive than your local suppliers or middle sellers.
5 •  Our LED strip light is with 3 years warranty. Excellent maintenance service is provided during the warranty period.
We still manufacture many other models, please visit our LED strip light category page or home page for more information.

Frequently Asked Question
We are a leading LED light manufacturer located in Guangdong. China, You can easily buy our LED lights no matter where you are. Firstly, please send us an inquiry to tell us your requirement on our website or through email, whatsapp or skype, etc. Then we will send you feedback with our proposal, products and quotation. You will be requested to send us the payment after our deal. And when the payment comes we will arrange the production and send you the goods by air or by sea.
Normally our payment term is T/T 30% deposit and balance before shipment. For small amount (such as less than 500 USD) you can pay via Paypal, Western Union or MoneyGram. But for large  amount, we will accept bank transfer. We accept different kinds of currency including USD, Euro, GBP, RMB, HKD, YEN, etc.
Normally the delivery time of our sample is 1-3 days and normal order is 5-15 days depending on the actual quantity of your order. We will arrange the shipment by air express(door to door), normal air freight(to your local airport), sea freight(to your local seaport) or some special shipping ways with duties according to the actual situation.
The lifespan of our LED lights can reach 50,000 hours in theory. But the actual lifespan will be a little shorter due to the influences caused by the actual environment temperature, humidity and the using habit of the end user. According to our experience, our LED lights can be used from 6 to 10 years or more.
Normally we provide 3 or 5 yrs warranty. During the warranty period, we will send you new products or new parts for replacement if there are any failures. You can come to us whenever you meet any problems.