Best Outdoor 15W 30W 40W 50W Solar Powered LED Street Light
✪ Switched by ambient light, turned off at dusk and turned at dawn automatically. Work smartly with motion sensor detector.
✪ Using famous Philips brand SMD3030 LED chips, high brightness 150lm/W, low heat and long lifespan.
✪ Using monocrystalline silicon solar panel, the lifespan can reach 25 years. Extremely fast charging time 5-6 hours.
✪ Using LiFePO4 type of lithium ion battery, A level quality, large capacity, with over-charged and over discharged protection. Long working time: 12 hours per night, 3-5 days during rainy or cloudy days.
✪ Aluminum body material which is beneficial for heat dissipation and lifespan.
✪ Integrated / All In One design, more convenient for transportation and installation.
✪ Optional wattages: 15W/25W/30W/40W/50W.
✪ 5 Years warranty.
Best Outdoor 15W 30W 40W 50W Solar Powered LED Street Light
Model No.
LED Power
Ambient Light Switch
Motion Sensor
ZL-STL-E3
15W - 50W
Support
Support
LED Brand
Lumen
Color Temp.
Warranty
Philips SMD3030
150lm/W
White/Warm White
5 Years
Solar Panel
Charging Time
Battery
Working Time
Monocrystalline Silicon
5-6 Hours
Lithium Ion (LiFePO4)
12 Hours per night
3-5 rainy/cloudy days
Body Materials
Working Temp.
IP Rating
Beam Angle
Aluminum
-40°C~60°C
IP65 Waterproof/Dustproof
70°x140°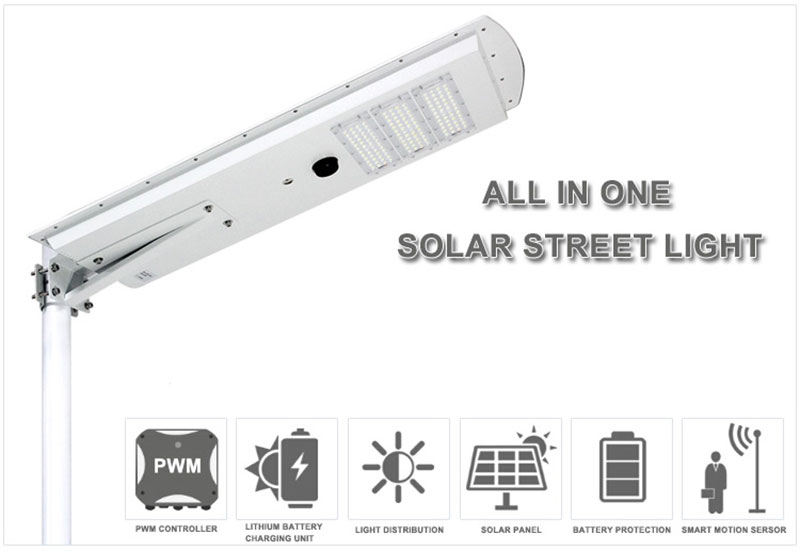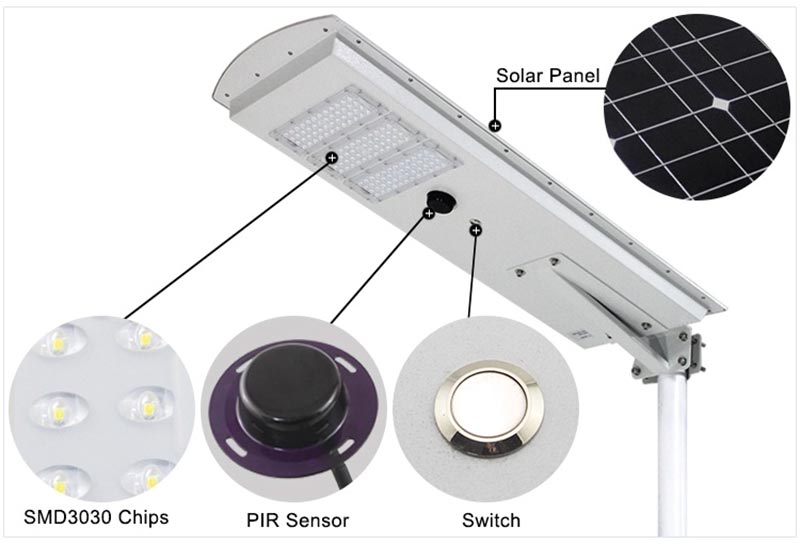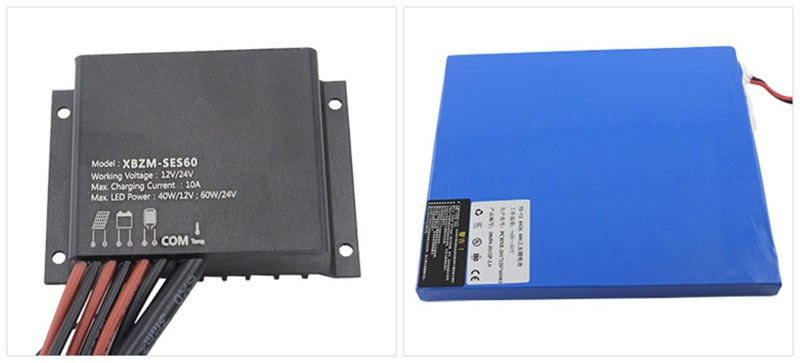 Our solar LED street light is switched by ambient light, turned on at dusk and turned off at dawn automatically.
The light also integrated with motion sensor detector. It will work after the light is turned on. The brightness of the whole light will be changed according to the detection of people or the time as below:
•  From 1st~4th Hour: 100% brightness when people are detected and 50% brightness when no people.
•  From 5th~8th Hour: 70% brightness when people are detected and 40% brightness when no people.
•  From 9th~12th Hour: 60% brightness when people are detected and 30% brightness when no people.
With this smartly working, our light can work 12 hours per night, and 3~5 days during rainy or cloudy days, even last to 7 days for some wattages.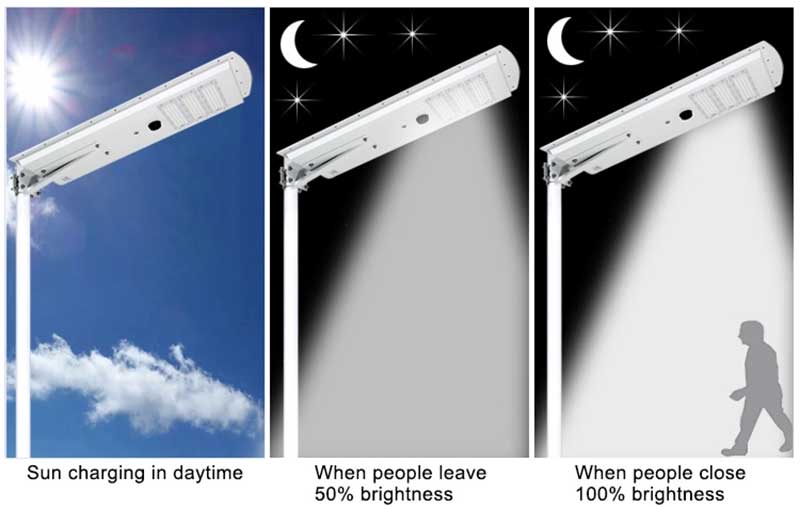 Our solar powered LED street lights are widely used in street lighting, sidewalk lighting, roadway lighting, fence lighting, pathway lighting, campus lighting, park lighting, garden lighting, ramp lighting, boat dock lighting, remote area lighting, farm & ranch lighting, etc.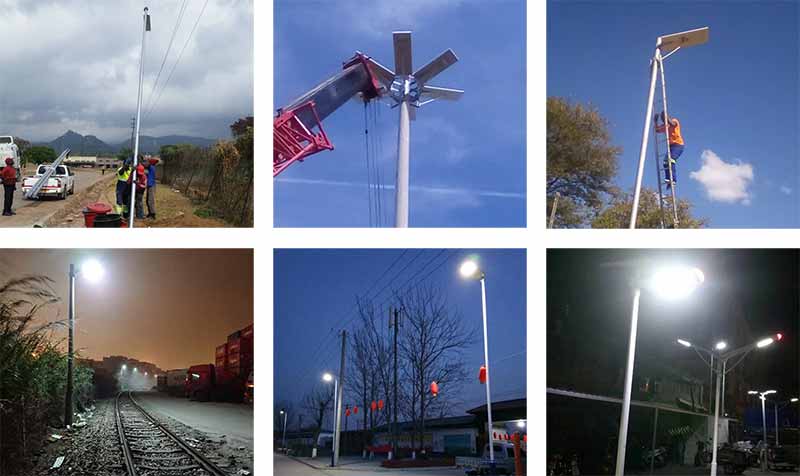 Frequently Asked Question
We are a leading LED light manufacturer located in Guangdong. China, You can easily buy our LED lights no matter where you are. Firstly, please send us an inquiry to tell us your requirement on our website or through email, whatsapp or skype, etc. Then we will send you feedback with our proposal, products and quotation. You will be requested to send us the payment after our deal. And when the payment comes we will arrange the production and send you the goods by air or by sea.
Normally our payment term is T/T 30% deposit and balance before shipment. For small amount (such as less than 500 USD) you can pay via Paypal, Western Union or MoneyGram. But for large  amount, we will accept bank transfer. We accept different kinds of currency including USD, Euro, GBP, RMB, HKD, YEN, etc.
Normally the delivery time of our sample is 1-3 days and normal order is 5-15 days depending on the actual quantity of your order. We will arrange the shipment by air express(door to door), normal air freight(to your local airport), sea freight(to your local seaport) or some special shipping ways with duties according to the actual situation.
The lifespan of our LED lights can reach 50,000 hours in theory. But the actual lifespan will be a little shorter due to the influences caused by the actual environment temperature, humidity and the using habit of the end user. According to our experience, our LED lights can be used from 6 to 10 years or more.
Normally we provide 3 or 5 yrs warranty. During the warranty period, we will send you new products or new parts for replacement if there are any failures. You can come to us whenever you meet any problems.